Address:
5000 E. 7th St.
Long Beach, CA 90804 (562) 438-4012
Number of Holes:
9
Par:
31
Yardage:
(1,865 yards)
Course Hours:
Sunrise to sunset
7 days a week
Greens Fees:
Weekdays $16
Weekends $19.50
| | |
| --- | --- |
| Course Condition: | 4 out of 5 |
| Course Design: | 4 out of 5 |
| Overall Rating: | 5 out of 5 |
Hole by Hole
Recreation Park is located in Long Beach. There are two golf courses there; a regulation 18 hole (Rec Park 18) and a 9 hole executive (Rec Park 9 – also known as 'Lil Rec). This review is of the 9 hole executive golf course. The course is located off 7th St. If you are heading west you will first see Rec Park 18 on the right and then Rec Park 9 will be about 200 yards further down the road on the left. Note, that it is a different location, different parking lot, different starter etc. There is a small pro shop, putting green and chipping area, but no driving range at this particular location.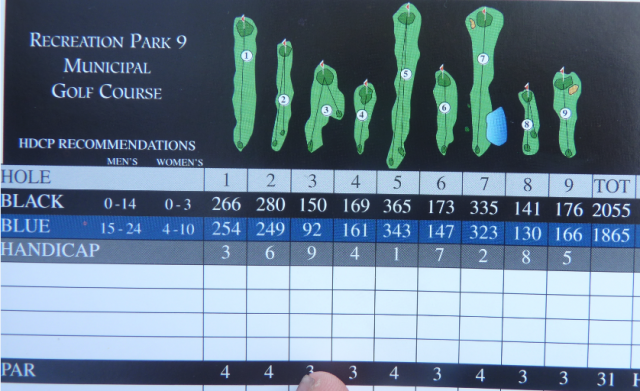 As executive courses go this is on the shorter side – 1,865 from the blue tees. Each hole has two tee boxes and the white tees are a lot closer and make the holes not as challenging. I noticed that on the scorecard there were yardages for black tees. However out on the course there were no black tees present.
The course itself has a nice flow and design. You play the first 5 holes and then cross a street to play the remaining 4 holes. There is good variation of holes which mean you can use every club in the bag. There are also nice elevation changes within each hole. I found the course was pretty straightforward to play and not as challenging as some. The holes were generally wide with expansive fairways. There were some trees, but not a whole bunch compared to other courses.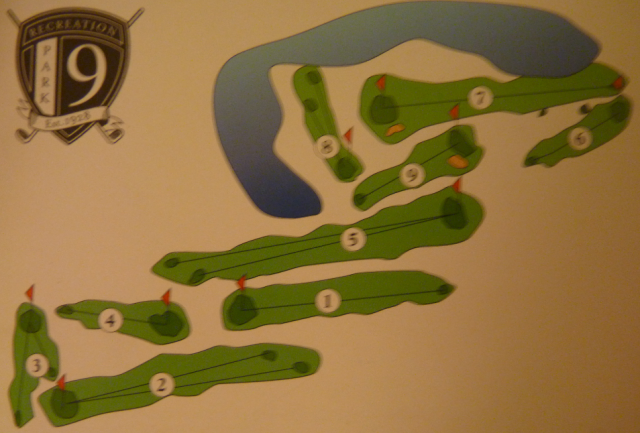 Two holes which stood out for me were 5 and 7. Hole 5 is a downhill par 4, 343 yards. It looks nice from the tee box and has large well placed bunkers. Hole 7 is the only hole on the course with a water hazard. It is a par 4, 323 yards. From the blue tee box you have to hit over a lake. You probably need to carry about 125 yards to clear the water. You also need to keep left. If you hook it right you may also find water. If you play from the white tee box, you eliminate the water.
The course had several well placed bunkers throughout. Some of the bunkers were deep and all had good quality sand. The sand was not really dense like a lot of other courses in the area. The greens were large and had slopes/ breaks which made putting interesting. They ran a little on the fast side, but not crazy fast.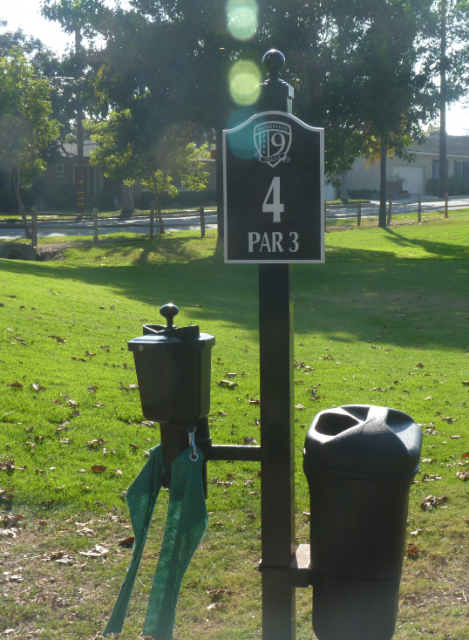 The overall condition of the course was very good. There were a higher than average number of pitch marks on the greens, but over than that the course was fine. The pace of play was fair. We were stuck behind a girls high school tournament. However we still managed to complete the 9 holes in 2 hours. There are electric carts available, however we walked and everyone else on the course seemed to be walking also. There are good rates available to play at this course which available through the usual online vendors. We paid just $8 to play, which is a lot less than the published rate. They also do a special during the week (I think after 5pm). $5 to play, $5 for a cart and $5 for two beers.
They seem to pair people up and send out four-ball's. So if there are just a couple of you, be prepared to be playing with a couple of others. We were paired with a couple of colorful older guys. One of which seemed to have a liking of White Russian's and became more inebriated as the round went on. I must admit, first time I have seen someone drink a White Russian while playing golf! It is advisable to make a tee time or call in advance. They seem to have a lot of various tournaments going on. I was initially going to play on a certain Saturday, but was told the whole day was booked up with an event.
Richie says… "Very nice golf course with an interesting course design. It is over an hour drive from where I located, so I would probably not play this course again for logistical reasons. People in the Long Beach area are spoiled with options. You have this course, Heartwell, Navy Cruiser and Bixby Village. All four courses probably make my top 10 of all courses in the Los Angeles area".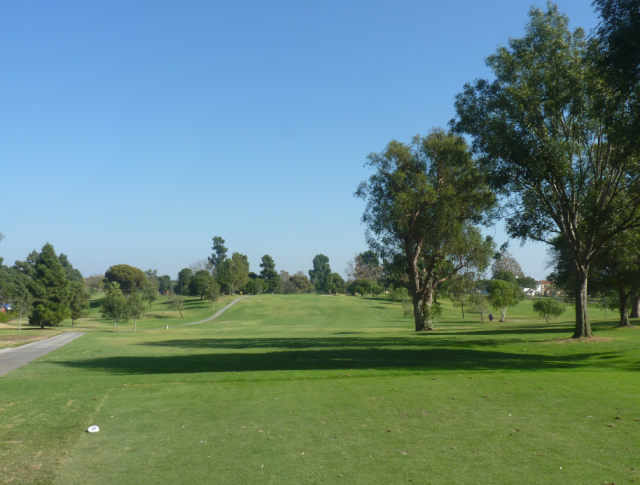 Hole 1 – 254 yards (par 4)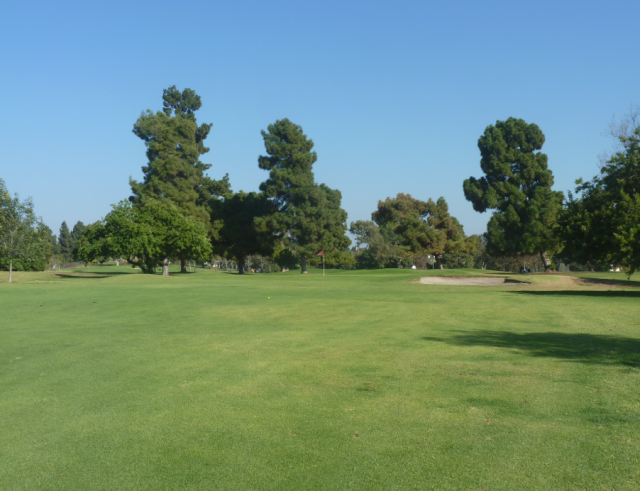 Hole 1 – 2nd shot (80 yards out)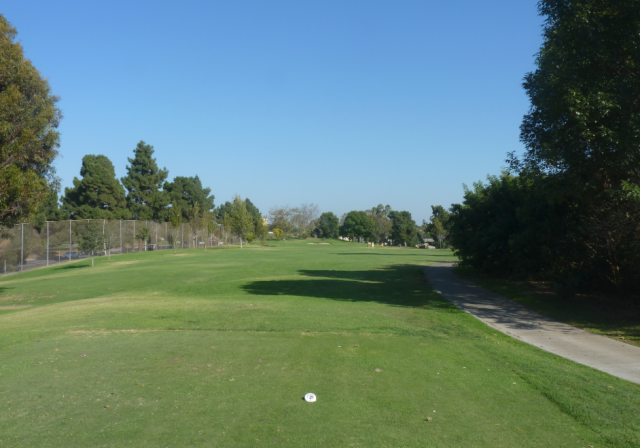 Hole 2 – 249 yards (par 4)
Hole 2 – 2nd shot (100 yards out)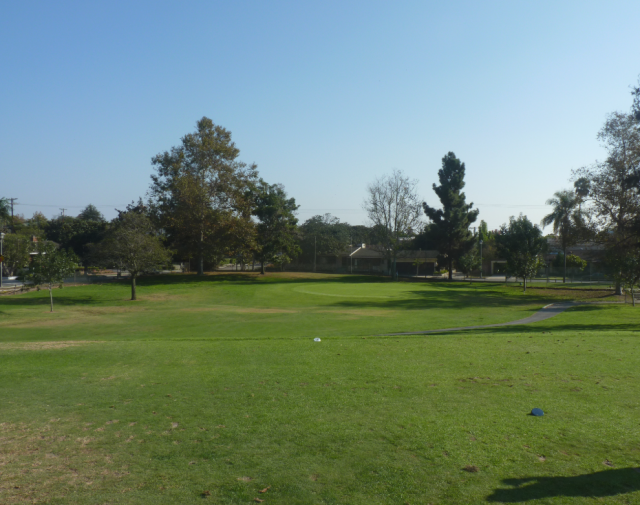 Hole 3 – 92 yards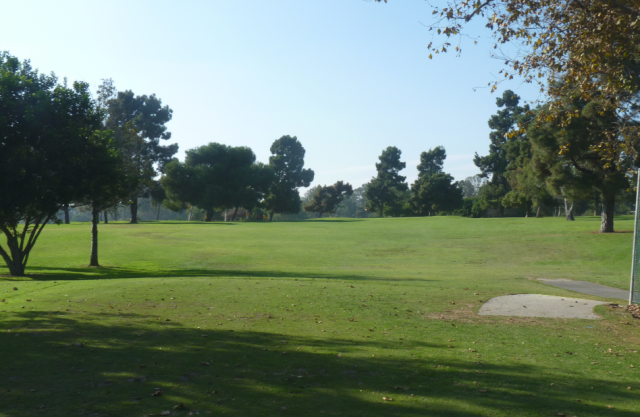 Hole 4 – 161 yards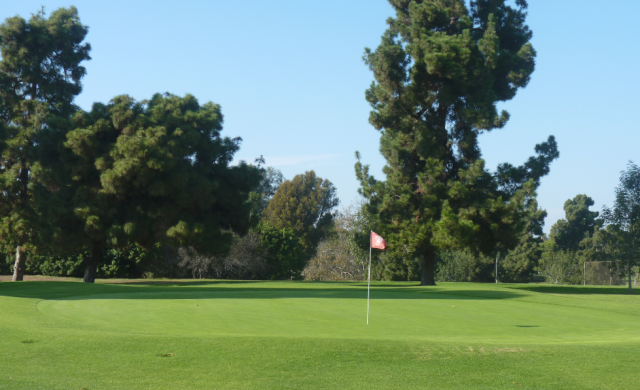 Hole 4 – green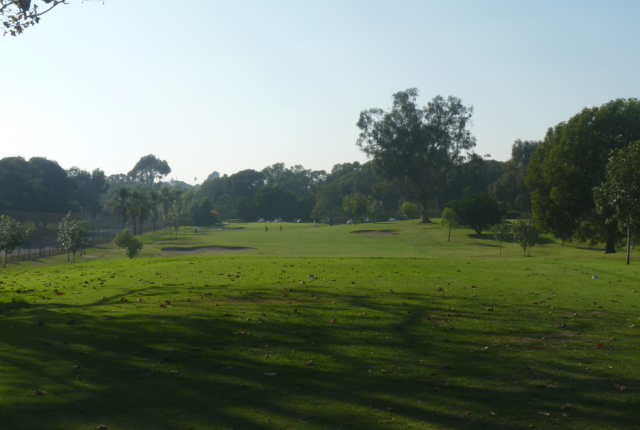 Hole 5 – 343 yards (par 4)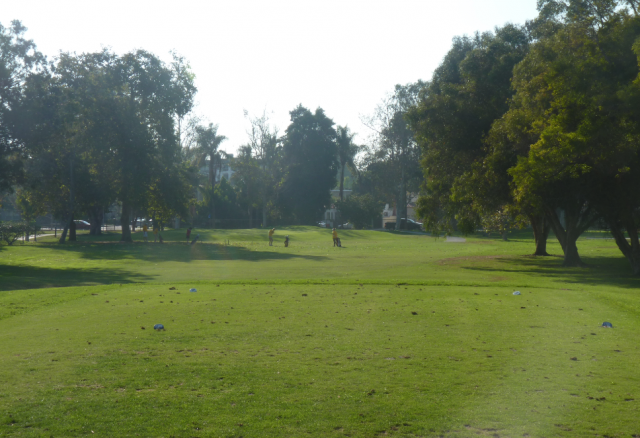 Hole 6 – 147 yards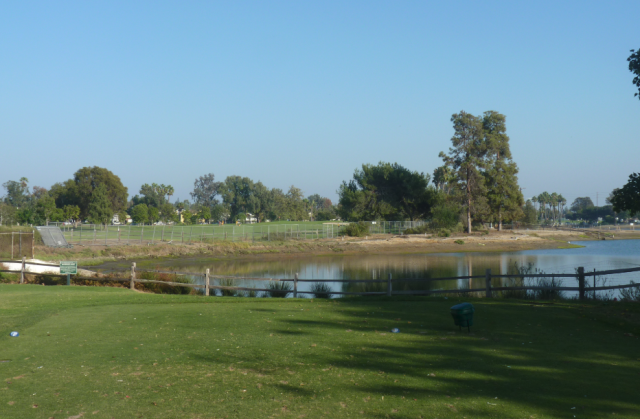 Hole 7 – 343 yards (par 4)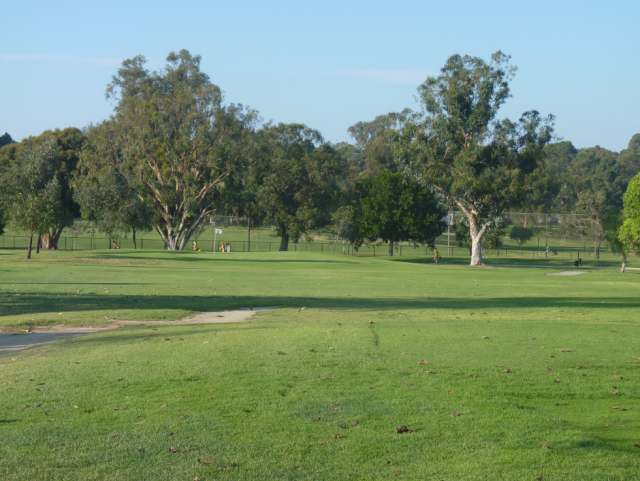 Hole 8 – 130 yards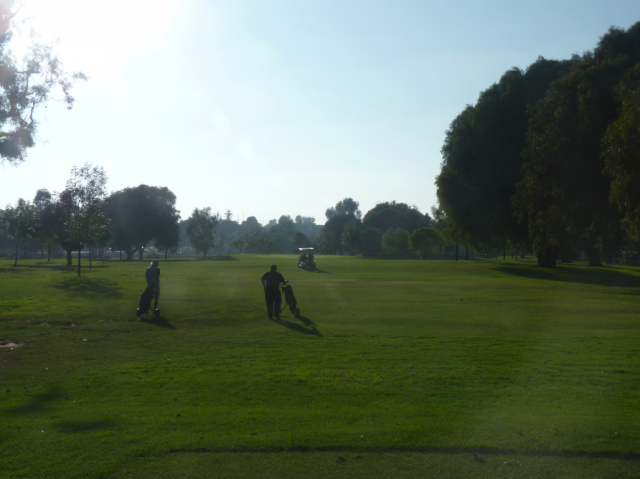 Hole 9 – 166 yards